Remember when I told you about my homework/command center, yeah I know it was a longggg time ago. I did get it done well before school actually started, but posting about it has been another story. It all started with this inspiration
post
from Aby over at Creative Organizing. Her message center look so organized and it was pretty which really gave me the inspirtaion to get to work. The cabinet in the kitchen had become a catchall of everything from mail, to decorative items not in use. I decided that since little man would be entering kindergarten and would have homework and projects to work on, the cabinet would be the perfect place to put all things realted to homework.
Here is a before picture:
And the much more organized after:
The paper tray will hold loose leaf and construction paper. Next to the paper tray is a bin that holds everything little man will need to complete his homework, gulesticks, pencils, erasers, sissors and a few other things. The class canisters hold beads and pompoms for creative projects. On the bottom is a place for his coloring and work books and surplus school supplies.
Here is a close up of the nicely labeled bins
Here is a view of the top
My favorite part of the message center is actually the top. I found my chalkboard at a yardsale. In its previous life it was orange, but a can of paint transformed it to a nice shade of white. I added our initials using scrapbook paper and it is know the perfect way to communicate and remember the days tasks. In the basket I have folders for bills, coupons, and school communication. See those numbered jars, they look like they came from Pottery Barn, but I found them at a yard sale for 25 cents each, added the numbers with craft paint and after it was semi-dry wiped some of the paint off for a distressed look. I think my 75 cents version is just as nice as the 39 dollar version at Pottery Barn. What do you think can you tell a difference? Look beyond the lack of professional pictures please.
Go see what some fabulous bloggers are DIY'ing this week over at A Soft Place to Land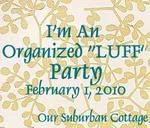 ">
Update: Come over to the organizational party at
Our Suburban Cottage