Curb appeal is an important aspect of making your home more appealing. A lot of times we are so caught up on making the inside of our home look better, that we neglect the outside like I did with my
front porch.
After taking an hour to clean off the front porch and plant some new flowers I was feeling pretty good about my curb appeal, my flower beds are starting to fill in and handy hubby even trimmed the overpowering Bradford Pear tree. I guess he was feeling pretty good about his handy skills so he decided to add brick pavers around Bradford.
I LOVE it!!!! The pavers and new flowers really make the yard look so much bigger and brighter. Dont tell my neighbors, but I think we have the prettiest yard on our street.

My new flowers are doing wonderful, but the beautiful dianthus I showed you before turned brown and looked a hot mess. I spent some time deadheading and they are starting to produce some new blooms. I started watering them with Miracle Grow hoping that this will make them grow thicker and faster.
The bright purple petunias in my hanging baskets are my favorite and they smell wonderful.
I also added these planters to the mix.
Hubby needs to do a good bit of edging and the curb appeal will be complete, well except in the back yard which is an embarassing mess in part to this little guys newest toy which created a nice large mud hole.

Pretty much the only thing the backyard has going for it, is hubby's box garden full of tomato, cucumber, squash, peas, and cantaloupe. Yes it looks a little crowded, Hubby needs to stake the tomato plants and do a bit of edging, nevertheless we already see yellow blooms on the tomato plants. I'll keep you posted on the progress.

It does look better in person, I promise!
By the way I didnt pay full price for hardly any of these plants, I waited for them to go on clearance at Lowes, saving at least 50% on each plant.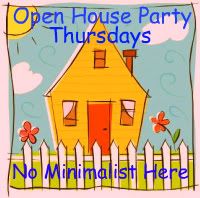 Anything Goes Party at

Type A